Republished TDN AusNZ article
Annabel Neasham once had her sights set on a career as a hotshot property developer before deciding to invest her future in the world of racing.
Neasham, who hails from an eventing background in England, was initially keen on the real estate industry but changed tack during her university years to become a relatively late starter in racing.
She has subsequently combined her stud and stable experience in England with time spent with Group 1-winning Australian mentors to pursue a solo training career.
Neasham first came to Australia in 2016 on a working holiday that began at Tulloch Lodge with Gai Waterhouse and then at Caulfield with Ciaron Maher and later overseeing the Sydney arm of his operation.
When the opportunity of stables arose at Warwick Farm for the 2020/21 season, she made the decision to go out on her own and put to use the lessons learned from two of the country's finest conditioners.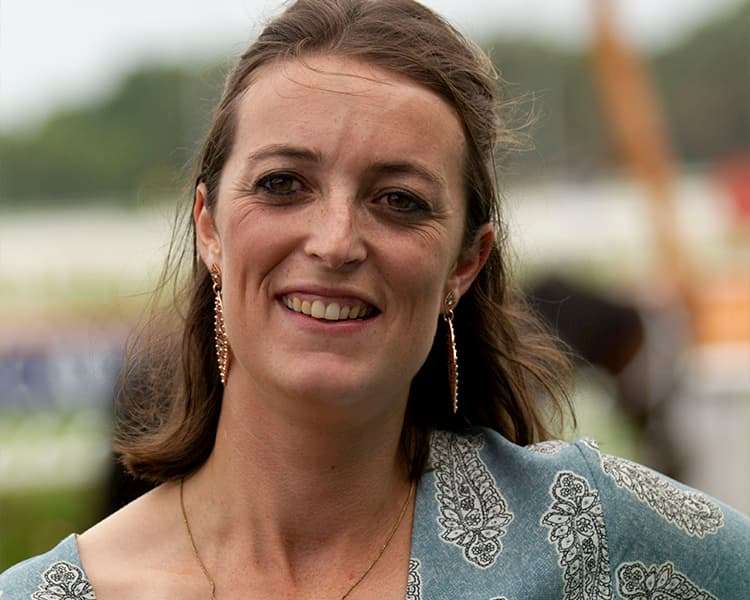 Commanding start
She made a perfect start when her first representative Commanding Missile (Smart Missile) was successful at Scone last month and he's since won again at Goulburn.
However, while Neasham spent her formative years with horses in rural England, she initially had thoughts of pursuing a much different profession.
"While I was at Reading University I thought I would become a wealthy property developer and have horses for fun, but I soon figured that wasn't going to happen," she said.
Turning back the clock, Neasham grew up in the small Northamptonshire village of Croughton, about half an hour north of Oxford.
"Both of my parents were horsey and my grandmother used to point-to-point, which is amateur jumps racing. My background was mainly in eventing, hunting and show-jumping. I was late into racing compared to a lot of people and got given my first pony on my seventh birthday," she said.
"I think my parents thought I would get to my teenage years and swap it for other things, but I was just mad about it from day one.
"I grew up doing a lot of pony club and hunted a lot and then I started getting quite serious about eventing and did that full-time after school for a year.
"I worked for a lady called Serena McGregor, who was a professional event rider and I used to compete her young horses and ride her breakers.
"All through out that I was an avid jumps racing fan and really followed the National Hunt closely and always admired Henrietta Knight and Venetia Williams, jumps trainers in England.
Neasham also competed on the international stage before a reality check.
"I realised I probably wasn't good enough and there was no money in it and I was encouraged to go to university by my parents and that's where I met a guy called Tom Ward, who is now training back in England," she said.
"He came out here for a while and was assistant to John O'Shea when he first went to Godolphin.
"Throughout university I used to go and ride Tom's point-to-pointers that he trained close to the university. I bought my own point-to-pointer and it broke down straight away so that was short-lived.
"During my holidays and after university I went to work for a guy called Ted Voute, one of the leading thoroughbred consignors and he introduced me to the bloodstock side of things.
"I worked on his farm and in the office a bit and Ted and his wife Gaynor were great to me. Ted was the one that got me a job at The Royal Stud at the Sandringham estate.
"It started there at the same time as their new Stud Manager Matt Hill, who is now the Arrowfield Stud Manager and again he was fantastic to me.
"There are always a lot of keen, young and enthusiastic people that work at those studs, but at The Royal Stud they didn't really take on students so I was pretty fortunate to get in through Ted.
"Matt was great and let me see and do everything. I went on covers and took mares to be covered by Frankel and did a lot of foal watch and was doing breakers.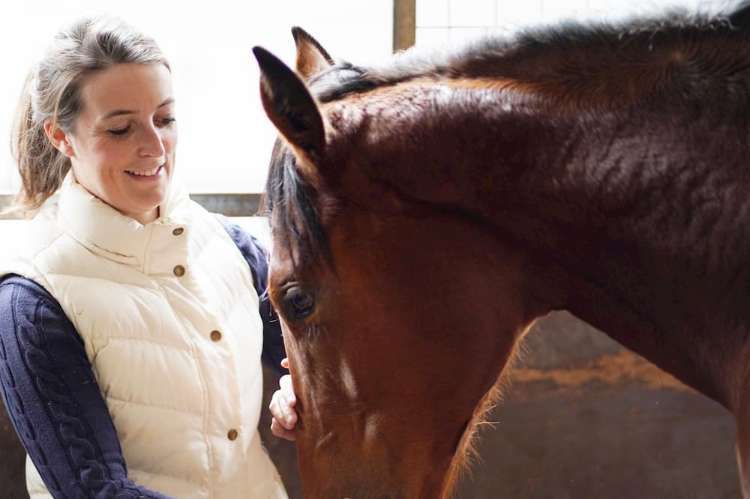 "Sending the breakers to the trainers made me realise I was more interested in the training side of things and I'd always ridden.
"Everybody kept steering me away from the training side, saying there was no money in it, but I knew in my heart of hearts it was training that I wanted to do.
"I had a brief stint in London working in property, but that didn't last long. I missed the horses too much and it was Tom (Ward) who got me a job with Gai Waterhouse."
Carnival grounding
Neasham spent six invaluable months with Waterhouse and gained spring carnival experience.
"She was brilliant and let me see and do a lot of things and sent me down to Melbourne. That was the year she had English, Prompt Response and the horse in the G1 Melbourne Cup, Excess Knowledge," she said.
"I was with Gai for six months and the main lesson I learned was hard work. When I was in Melbourne I had to start at 2.30am because we shared a horse walker with Ellerton and Zahra so we had to get the horses on before them.
"My alarm went off at 1.45am every day. I was down there for nearly 12 weeks and I was privileged to be sent down there. You didn't get a day off the whole time and I just loved it.
"She expects her staff to work hard and if you do she rewards you with the horses and opportunities, there was certainly no slacking.
"We had a really good carnival and I was friends with David Eustace and met Ciaron through him. He couldn't be any more opposite than Gai in terms of character, he's extremely laid back. They have very different training styles, but are both outstanding."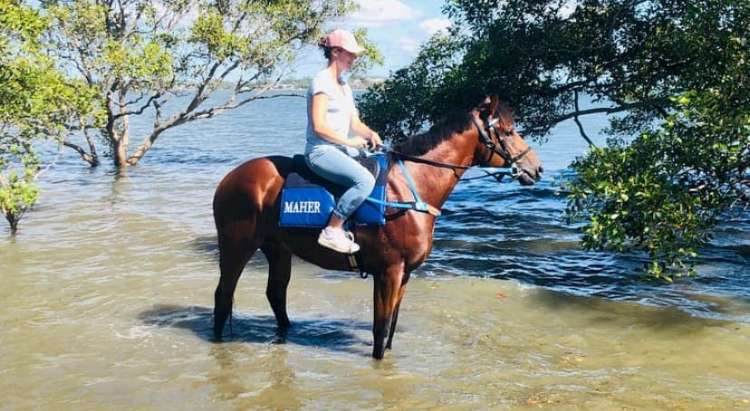 Neasham took up a job offer from Maher and spent two years at Caulfield and then took charge of the Sydney stable in 2018.
"It was a privileged position and for probably six months we only had 25 to 30 in work and we got five of those into the G1 Golden Slipper S.," she said. "It was a really exciting time.
"We were working extra hours, but I learned a huge amount from him. Ciaron is unbelievable at surrounding himself with people that want to work well and want him to do well.
"Ciaron is unbelievable at surrounding himself with people that want to work well and want him to do well." – Annabel Neasham
"I don't know how he does it, he's just got a knack of getting good staff and he's got a great team. Along with that he seems to know how much to delegate and when to throw the keys at you, but he's always there for support as well.
"That really accelerated my learning and teaches you to think like him, which is a very good quality."
Neasham had plenty to do with numerous top-flight performers during her time with Maher, but it is the G3 San Domenico S. and Listed Rosebud winner Anders (Not A Single Doubt) that remains a favourite.
"He's electric and I remember calling Ciaron a week before the Rosebud and I said he'd done the best piece of work I'd ever seen and he won't get beaten – he said don't get too carried away," she said.
"Obviously, I don't have anything to do with him now, but I think that colt will win a Group 1 for sure. I worked there with a lot of good horses, Jameka, Merchant Navy and Loving Gaby among them, but I really admire Anders."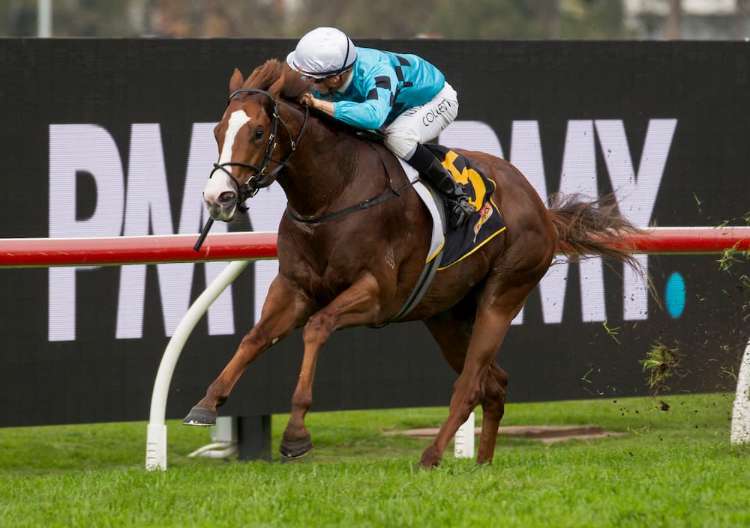 Time to fly solo
When the chance to take stables at Warwick Farm came up, Neasham felt it was right for her to spread her wings.
"There's never an easy time to make the decision to go out on your own, but after four great years with Ciaron it was a launching pad and I could have easily stayed there (with Ciaron) forever," she said.
"But the opportunity of boxes came about and I've always wanted to do things for myself. Whichever path I would have gone down in life, I would have always wanted to work for myself.
"It's in my nature and I've always been fairly ballsy with my decisions and I just thought the time was right and luckily I went with Ciaron's blessing.
"I've got 40 boxes and 30 in work at the moment so I've still got a few boxes to fill. With the sales coming up we'll be active at those and I might buy at the Ready2Race Sale as well.
"It's been a quiet time in terms of runners with the stable mainly filled by juveniles so we'll get busier in the coming weeks.
"It's a tough game and usually more lows than highs. If there's one thing that Ciaron taught me it's to make sure you celebrate the good days when they come around."